December 29, 2022
Study in Kenya: 8 Great University Scholarships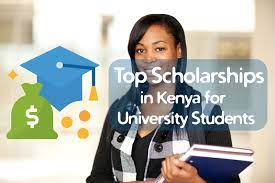 Kenya University Scholarship
Africa Nazarene University  – VICE CHANCELLOR'S SCHOLARSHIP
The award recognizes well performing students at their high school level.
The award is given to students who qualify with a KCSE mean grade of between A and B+ or an equivalent. The scholarship amounts to 50% and 30% on tuition fees respectively.
This award is offered on a trimester basis on condition that the student maintains a GPA of 3.0 and is only valid within 2 years of completing high school education.
Catholic University of Eastern Africa
The University, in collaboration with other development partners, awards partial tuition scholarships and grants to full time students once every academic year. Eligibility is based on:
Economic need and scholastic achievement
Applicant's personal character
Quality for future leadership
Demonstrated commitment to the University ideals/activities
Participation in community service
Daystar University Scholarships
Daystar University sets aside over KES 30 million each year to assist approximately 300 students through a variety of scholarships and other financial aid. Eligibility and application process varies depending on the kind of scholarship.
The broad range of scholarship programmes enables the University to cater for a wide range of applicants. Some of the available scholarships are need based while others are based on academic merit. The scholarships fit a variety of our students' needs and are either full or partial scholarships.
Kenyatta University
The goal of the OVS Scholarship Fund is to increase access to university education at Kenyatta University for orphans and vulnerable students through a scholarship endowment fund. The specific objectives of the OVS Scholarship Fund are:
To enhance access of OVS to higher education
To invest in the OVS who have high potential.
To support OVS to accomplish their life ambitions by attaining higher education
Strathmore University
There are various internal and external Financial Aid Schemes in form of scholarships, loans, bursaries, work study, waivers etc. The eligibility criteria varies depending on the type of financial aid one is applying for.
Scholarships: SU Merit and Need Based
These are partial and full scholarships offered to students pursuing undergraduate, diploma and professional courses.
United States International University Africa USIU-AFRICA SCHOLARSHIPS
Looking for the Best!
Every year USIU-Africa offers premier learning opportunities for those from an underprivileged background to receive a world-class education offered through state-of-the-art facilities.
The Office of Financial Aid is now inviting applications for the following undergraduate scholarship programs.
There are two Full USIU-Africa Scholarships for Kenyan students (one male and one female) seeking to pursue an undergraduate degree at USIU-Africa. Applicants must demonstrate academic and leadership achievements and MUST be in need of financial assistance (evidence required).
The scholarships cover the cost of tuition, room and board, and lab fees beginning Fall Semester (September) 2017. Recipients must meet other expenses such as medical insurance and Student Activities fees.
University of Eastern Africa, Baraton
UNIVERSITY OF EASTERN AFRICA, BARATON – UEAB BONUS SCHOLARSHIP PROGRAM
The applicant must be able to prove his/her financial neediness by having worked full time for at least two trimesters for the last two academic years.
The applicant must have a cumulative GPA of 2.50 and above.
The applicant must have registered as a student with the University for at least two trimesters.
The applicant's citizenship must be unquestionable within the University.
The applicant must be ready to work 520 hours within the Bonus period- May 03, 2016 to August 12, 2016.
The applicant must be ready to work full time during the Bonus period without going to class
University of Nairobi
Several scholarships and grants are available for both undergraduates and graduate students who are seeking for financial assistance.