October 18, 2019
AMREF SACCO EDUCATION LOANS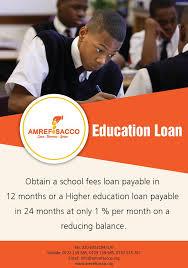 HIGHER EDUCATION LOAN
Product features
Caters for college and university higher education
Maximum period – 24 months
Interest rate – 1% p.m. on reducing balance (6.5% p.a.)
Supporting documents – college fees structure must be attached to the application.
Cheques may be raised in the name of the college where applicable
Only one higher education loan may be granted at any one time
SCHOOL FEES LOAN
Product features
No maximum amount
Repayment period – 12 months
Interest rate – 1% p.m on a reducing balance (6.5% p.a)
Fees structure should be attached as proof of school fees
Cheques are raised in the name of the school where applicable
Only one school fees loan may be granted at any one time
VALUE ADDITION
JIPAMBE MERCHANDISE LOAN
Product features
This facility is offered in partnership with Hot Point appliances, Top tank Limited, Kingsway Tyres and Daima Solar Energy Ltd. For product list, please email info@amrefsacco.org
Maximum amount – As per quotation subject to 3 times member's savings
Repayable 12 months
Interest rate 1 % p.m. on reducing balance (6.5% pa)
Cheques payable directly to the merchants
INSURANCE FINANCING LOAN
Product features
This facility is offered in partnership with CIC insurance group for motor private at 3.75% and motor commercial at 4.5 %. Other types of insurance covered include Medical, Home, Business and personal accident.
Financing terms
Maximum amount – As per premium after valuation
Repayment period – 6 months
Interest rate – 5 % fixed (one off)
Security – Guarantors required for amounts above Kshs 50,000
EMERGENCY LOANS
Product features
Such as hospitalization, funeral expenses, court fines, and other unforeseen circumstances.
Maximum Amount – 3 times member's savings
Maximum period – 12 months
Interest – 1% p.m. on a reducing balance (6.5% p.a.)
Loans of Ksh 50,000 and less – Granted without supporting document.
Loans exceeding Ksh 50,000. – Applicant will be required to provide documentary proof of an emergency
Only one emergency loan can the given at any one time
INSTANT PESA
Maximum amount – Ksh70,000 subject to 3 times member's deposits
Repayment period – 5 months (Maximum)
Interest rate – 6% one off
Loan amounts of Ksh 70,000 and below are disbursed through M-pesa.
SALARY ADVANCE
Product features
Maximum amount – Salary limit
Max repayment period – 1 month
Interest rate – 3% fixed (one off)
Security – None
Disbursed – Within 24 hours
KARIBU M-CASH LOAN
Product features
Borrow up to KSh10,000
Repayment period – 1month
Interest rate – 7.5% one off charge
No Guarantors needed
No paperwork
To qualify for the loan, one must be a member for a period not less than three months. The loan limits is subject to your deposits
ADDITIONAL SERVICES
Transfer Money to own or other M-Pesa
Pay any Pay bill (Including K.P.L.C, DSTV, ZUKU, Nairobi Water)
Savings and Loan Balance enquiry
Check Guarantors/guarantee status
Buy Goods/ Till payments