July 1, 2023
How to Handle Your Medical Debt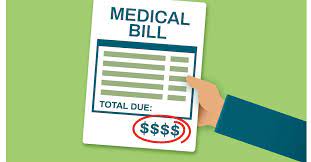 Even with the proper planning and familiarizing yourself with your benefits, it's easy to find yourself saddled with overwhelming debt. Whether you've had a major operation or your child broke his leg, receiving medical care is expensive.
Luckily, there are a few different ways to handle it, many that are more amenable than other types of consumer debt. The best thing is to address the debt as soon as you start receiving bills, otherwise, you can set yourself up for expensive late fees and negative items on your credit report.
Medical debt payment plans
The cost of medical debt can be well outside of anyone's reasonable budget, so one of the first things you should do is to arrange for a good payment plan. Most medical bills should be interest-free, and the healthcare industry is usually willing to work with you as long as you're willing to pay something.
If you can't meet the payments they request, be honest about it and inquire about special hardship plans. You can only afford to pay as much as you can afford to pay and they're going to have to accept that. Be aggressive about it and let them know that you intend to pay everything back, but you can only do it at a reasonable rate.
When you've established what that is, avoid missing any payments if you want to remain in good standing and not have your debt sold to collections. If you discover that your bills were sent to collections, you should call the collections agency right away and tell them that a mistake was made.
Of course, if a medical bill is already in collections, you'll have to deal with that in a different way. In either case, it always helps to talk to a free non-profit credit counseling service or debt consultant.
Medical debt management
If your medical debts are just one debt among many, you're not alone. It's not uncommon for people to accrue other consumer debt as well, very often because of the circumstances surrounding their illness. If you or someone in your family has had an illness or hospital stay, it's commonplace for other debts to build.
You or a loved one might be out of work, or dealing with other expenses. When debts become out of control, debt counselors can help. They can create debt management plans specifically tailored to your own unique situation.
Medical debt negotiation
Depending on the circumstances, you might be able to negotiate a lower payment on your own or with help from a debt relief company. Sometimes hospitals are willing to work with you. Other times they're more likely to negotiate with a professional who knows more about the system and has leveraging power.
You might even have luck asking your insurance company for help. Negotiations and even settlements can take place as part of a complete debt relief package, or one specifically centered on medical debt. Talk to a debt counselor to find out more.