July 1, 2023
How to Get Loans for Graduate School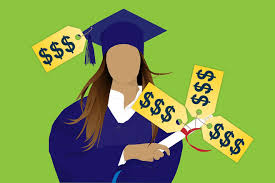 Once you have shortlisted your college/school to pursue your graduate studies, the biggest hurdle that you need to cross is planning for tuition fees and hostel and food bills, etc. Most students prefer opting for scholarships and grants, but in case you don't get one, the next best option is applying for a student loan.
Before You Turn to Loans for Grad School
There is a lot to take into consideration before you apply for a student loan. For example, figuring out the actual cost of your studies including tuition, boarding, books, transportation, etc. Then you must always compare all the loan options before fixing one. The best way is to consider the 1-2-3 approach, i.e.:
Start with Money that Doesn't have to Be Paid Back
It is always best to pay for your education with money where you don't have to worry about paying back. This is when your savings come into the picture. According to a report, about 24% of the total cost for studies comes from a student's savings. To do this, however, you need to create a thorough budget to figure out how much your monthly expenses are going to be. To further assist you with the deficit in your total requirement, you can look at the followings:
You can apply for one of the several grants available out there for students of various streams. Grants are either need-based or merit-based. Need-based grants are given after carefully going through your Free Application for Federal Student Aid (FAFSA) form or Expected Family Contribution (EFC) form. Merit-based grants are awarded to students with exemplary academic records and proven leadership skills.
Several organizations, companies, states, colleges, and other institutions offer scholarships for various programs. These are need-based and merit-based as well. You can apply for scholarships basis your school, your field of study, your region and demographics.
Explore Your Federal Loan and Student Loan Options
Once you have thoroughly researched all the available options for scholarships and grants, there are other avenues that can be explored. If you have submitted your FAFSA form, you may apply for federal financial aid such as:
Sometimes referred to as 'Stafford Loans' these are unsubsidized loans with a fixed interest rate. Unsubsidized means that you will have to pay back the total amount including the principal and the interest.
Direct Graduate PLUS Loans
These are credit-based loans with a higher but fixed interest rate.
Some schools offer their wards the opportunity to work on campus and earn part-time. Additionally, some schools offer financial aid as well. You will be required to apply for it.
You can also check via your state's website if there is any aid/assistance available for graduate students.
Private Student Loans for Grad School
Different banks and credit unions offer private school loans for graduate students. Many of these loans are credit-based. So, if you have a good credit score availing these loans will be easier for you. Banks offer both variable and fixed interest rates.
As with federal loans, you are required to pay the entire amount. However, banks advise you on various repayment modules available. There is an option available to defer loan payments until you finish school but that may cause extra due to the amount of interest levied for the said period.
3 Best Private Student Loans for Grad School
Stilt (Best for Students on Visas)
This is the best option for students who have a student Visa and have limited to zero credit score. Stilt Inc. offers loans to students, who have a US bank account and residential address, without even asking for a co-signer.
Citizens Bank (Best for Good Credit Scores)
For students with good credit score Citizens Bank provide easy loan options with variable and fixed-rate loans.  Loan term of 5, 10 and 15 years is offered with an option to add a co-signer which reduces the interest rates.
Sallie Mae (Best for Long Repayment Terms) ­
Students who seek a loan with a longer repayment term may apply to Sallie Mae. Sallie May offers loans with the variable and fixed interest rate for a period of 15 years with 3 repayment options viz. Full deferment, fixed monthly payment, and interest-only payment.
Tips for Improving Your Chances of Approval
Applying for loans comes with a caveat that disbursement is possible subject to the approval of the application. There are ways that can increase your chances of getting your loan application approved.
Maintain Stable Employment
If you have a good educational background and have a steady job, your chances of getting your application approved are much higher compared to a person who hops from one job to another at frequent intervals. Lenders see stability as a sign that their money will come back to them.
Retain a Good Credit History and High Credit Score
The higher your credit score the better are your chances to get a lower interest rate from the banks. Generally, a borrower with a credit score greater than 700 gets a quick approval on their loan application. A high credit score also tells the lender that there is a high probability of their money being returned to them.
Get a Credit-worthy Co-signer
One big obstacle for many students in securing a student loan is the lack of a good credit-worthy co-signer. Banks require a co-signer while reviewing the application as the presence of a co-signer on a student's application means that they will be able to recover their sum in any condition.
Shop Around for the Best Interest Rates and Fees
Before fixing upon a bank to borrow a loan from, it is advisable that you carefully go through all the available options in the market to find out the best interest rates for you. You must carefully review:
Repayment terms
Interest rates
Processing fee
Prepayment penalty (if any)
Monthly and total payment
Any other offers
Only attempt to borrow what you need. The best way to not feel overburdened by the loan is to borrow only what you need. Consult your financial advisor, dig into your savings and find out how much exactly you will need to borrow. This helps in reducing the interest sum that will come as part of the loan.