December 29, 2022
How to apply for students loans in Kenya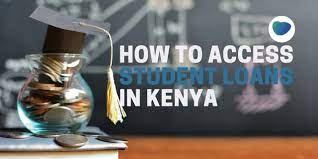 To apply for students' loans, follow the process below:
Register and sign in on the student's loan providers platform ( e.g. HELB, online lenders)
Download or print or fill the student loan application form
Go through the loan application terms and conditions, then sign
Submit all requirements
Submit a copy of your application form and attach all documents to the loan provider for processing
Wait for processing and if approved
Get your loan
What is the interest rate?
Interest rate to student loans differ from lender to lender. But it ranges from a minimum of 4% to 15%.
Repayment duration
Repayment duration student loans is often done at the end of the study duration. Some private lenders would request for an immediate repayment.
Additional charges
Some students' loans require you pay an administrative fee of up to ksh. 500 every year on the disbursed loans
How can I become eligible for students loans
To become eligible for students' loans, the primary eligibility is
Be a college student, undergraduate or postgraduate student in one school in Kenya or a salaried individual seeking to advance.
A national Identity card
A registered SIM card
Have an active M-Pesa account
Note: Interestingly, a student can have access to loans multiple times within the duration of the study. However, the number of loans a student can get depends on the study duration as at time of loan application.
Functions of student loans agencies and financial providers
These loans agencies help students in securing loans to assist them cater for some study requirements like tuition payment, purchasing of books and course materials, accommodation and welfare. These agencies also provide guidance and advice for students on loans to finally ensure proper usage and not diverted for other purposes.
How fast can I get funds?
They release funds quickly once they approve it. To access funds easily:
They advise students to submit their loan application early (at least one month before school resumption date). This helps to give enough time for review and consideration
Therefore, also apply when the student loans application result comes out before the start of a fresh academic year. This helps in a faster release of funds.
How to repay student loans
You can repay your student loan through an M-Pesa account or local bank transfer. The steps includes:
Through M-Pesa:
Login to M-Pesa
Go to paybill
Provide your business number as (200800 for HELB) or business number for other lending platforms
Use your national ID as your account number
Specify repayment amount
Allow and complete payment.
Direct bank transfer
You can pay through direct bank transfer to the loan provider's bank account number. Your loan provider can make the accounts provisioned for repayment.
Conclusion
There are several loans for students in Kenya that are being provided every day that you can access. Conduct enough research and compare lenders to make informed decisions. Hopefully, this helps the student loan application in Kenya to rise, thus helping more people access education loans.