April 29, 2023
American mortgages and home loans: A foreigner's guide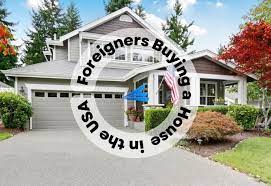 Whatever your reasons for buying a new home in the USA, you need to understand the type of mortgages available, and the steps needed to get one set up. This handy guide covers which banks offer mortgages and home loans in the USA to non-residents, the paperwork you'll need to get your loan, the legal ins and outs, and what it might cost.
What types of mortgages are available?
The mortgage market in the USA is very well developed. However, the market has traditionally operated in a slightly different way to that in Europe, so you might find some products or terminology that's unfamiliar if you're used to the system elsewhere. Either way, before you commit to a mortgage, you need to know a bit about how the different products work, to make a considered decision.
The first thing you have to decide is whether you want a fixed rate, or variable rate product. Fixed rate mortgages guarantee the same interest rate will be applied for the duration of the agreement. In the USA, until the subprime crisis, it was fairly normal to get a fixed rate for the whole repayment term – so up to 30 years. This is in contrast to Europe, where such favorable terms would be offered for a short while only – usually up to five years. These days it's harder, but still possible to get a long fixed rate in the USA, but you'll have to fulfil strict criteria to do so.
Variable rate mortgages in the USA might be referred to as Adjustable Rate Mortgages (ARMs). Unlike a fixed rate product, these can cost more or less depending on how the interest rates change.
An alternative is a hybrid product, which comes with a fixed rate for a few years before reverting to a variable ARM product. These might be referred to as '3/1 ARM' or '5/1 ARM' for example, meaning they have a fixed rate for three or five years before moving to adjustable rates.
Different banks and brokers will offer different products, and not every customer can access all of the loans available. The rules and products available for expat buyers may vary depending on which state you're in, as will rates and requirement for documentation and so on. The information in this guide is intended to be a starting point, but it's a good idea to get some specialist advice from a qualified financial advisor or mortgage broker, who can fully explain the options available to you.
Should I go to a bank or use a broker?
In the USA it's perfectly possible to arrange a mortgage directly with your chosen bank. In fact, around 90% of mortgages are now arranged directly with banks rather than using a broker or middleman.
However, if you're not sure what product is best for you, taking expert advice from a qualified mortgage broker is a good idea. It'll cost you but could work out as a good value in the end, because a mortgage broker will take steps to get to know your circumstances and recommend a specific product for you. However, if you speak directly to a bank and aren't really sure what you want from your loan, you might take on a mortgage which works out to be a poor fit to your needs.
What are the legal requirements to get a mortgage in the USA as a foreigner?
Foreigners, resident or not, can legally buy property in the USA. As an expat you can also apply for a mortgage, although this is much easier to do if you have a Green Card, or have a valid work visa. Although preferential FHA mortgages – which come with very low deposit requirements – are available to expats with permanent residency, they're harder to come by if you don't have this documentation.
In any case, individual banks will set their own terms, and you might find that you're offered slightly less favorable conditions, or higher interest rates, as a foreign investor.
How can I get a mortgage in the USA as a foreigner?
The options open to you for getting a mortgage in the USA vary somewhat from state to state as different lenders operate in different areas. Anywhere you go though, your application will be subject to a number of checks to ensure that you can afford the loan, and you'll usually be asked to pay a fairly high deposit. Offers vary, so it's worth talking to a few brokers or banks to see what deals they can offer you.
Paperwork (documentation)
The exact paperwork you'll need will depend on the bank you use. However, you can expect to be asked for the following:
Copies of your personal identification documents (passport)
Proof of legal residence in the USA
Documents to prove you're creditworthy (usually an international credit check, bank statements, proof of your wages, your last three years of tax returns or a letter from your employer)
Documents to prove the affordability of the mortgage (these might be household cash flow statements, utility bills, or bank statements which show that you can afford the monthly payments)
Affordability is an important deciding factor in whether or not you'll be offered a loan. Expect to have to show a maximum debt to income ratio of something like 35%, to demonstrate that you can afford to pay back the mortgage even if your circumstances should change. Sometimes, proving your creditworthiness is difficult if you haven't been in America for very long. In this case, you may be able to get an international credit check to verify your records elsewhere.
All of the documents above should be provided to the bank to get a mortgage pre approval or a mortgage in principle, which means that they agree how much they would lend you if you find a suitable property.
The step-by-step process    
To get a mortgage in the USA, you'll generally need to follow these steps:
Decide if you want to use a broker to explore your options for an American mortgage
Choose a mortgage that suits your needs
Hand over the paperwork requested and get a mortgage pre approval
Find a property within your budget, and agree a purchase price with the seller
Order a home inspection to check the quality and condition of the property
Pay your deposit to secure the sale and agree a completion date
Once the surveys are complete, you're able to 'complete' the sale. You'll take ownership of the property and become liable for the mortgage payments and any additional taxes
Fees
Arranging a mortgage in the USA will mean you have to have fees to pay such as administrative fees and legal costs. The exact costs will vary depending on your circumstances, but when you add it all together, it's a costly transaction. Usually the fees are known as closing fees, and rolled up into one bill, known as a HUD-1. Check the details carefully, as some fees are negotiable or should be applied only in specific circumstances. It's not unheard of for brokers to up the bill by charging for unnecessary services.
In the USA, when arranging a mortgage, you can also expect to pay fees including the following:
Application fees, $20 – $50
Appraisal fees, $300 – $500
Settlement fees, up to $300
Title fees and title insurance (variable)
Recording fees, $50 – $150
Mortgage guarantee fee, based on the product chosen, 2% or 3% of the value is usual
Depending on the situation you might find that there are other costs, both in taxes applied and the costs of arranging the loan.
In most cases, to qualify for a home loan, you'll need to hold a local American bank account. If your main account is outside of the USA, you might need to send money to yourself from abroad to pay fees and incidental costs. If this is the case then it's important to check what you'll be charged when you make an international money transfer. You'll probably find that your home bank won't offer you the best deal. Even if they claim to offer fee-free transfers, you can be sure that their cut will be rolled up into a poor exchange rate.
A better option is the use a specialist service like Transfer Wise, to transfer cash using the exchange rate you can find on Google with only a small, transparent fee. Alternatively, you can hold cash in any one of 15 different currencies in a Transfer Wise Borderless account, so it's ready to transfer over to your broker or seller as soon as you close the deal on your new home.
What are the major banks in the USA providing mortgages to foreigners?
All major banks and credit unions in the USA offer mortgage products, but they might not all have a service suitable for expats, and especially for non-residents. Check out the fine print of the products offered, as they come with fairly strict terms and conditions.
You might be able to get a local mortgage with one of the following banks:
HSBC is a global banking brand, offering a specific mortgage service for USA based expats
Chase have a dedicated expat team, and can help you to understand your options as a foreign buyer in America
Bank of America offer many mortgage products and may have offers suitable for a foreign buyer, depending on your circumstances
Citibank's international mortgage group have a specialized process for international buyers
Wells Fargo offer international investment services for anyone looking to buy property in the USA