December 29, 2022
The Direct Aid Program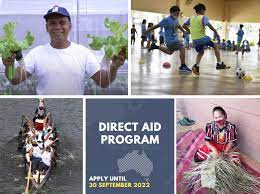 What is the Direct Aid Program?
The Direct Aid Program (DAP) provides financial assistance to eligible groups or organizations undertaking suitable small-scale development projects.
In 2021-2022, The Australian High Commission will fund projects in the following focus areas:
Climate change and environment
Countering Violent Extremism (CVE), Governance and/or human rights
Support for vulnerable groups including women and girls, youth and people with disabilities (including sport and recreational projects)
Skills-development and economic empowerment
COVID-19 recovery.
Projects must be located in Burundi, Kenya, Rwanda, Somalia, Tanzania or Uganda.   Activities may run up to a maximum of two years.  Further information on the Australian Government Direct Aid Program can be found here: http://dfat.gov.au/people-to-people/direct-aid-program/Pages/direct-aid-program.aspx.
Projects must have defined, realistic objectives and clear outcomes. The Australian High Commission will award DAP grants at a minimum of AUD 25,000 and a maximum of AUD 60,000.  Projects must be self-sustaining and recurrent/ongoing costs will not be supported (e.g. salaries/rental/utility costs, micro credit schemes or any other project that involves return of money, etc.). Projects that demonstrate a high level of local involvement or partnership (financially and/or in kind) are encouraged.
Organizations that received funding in both the 2019-2020 and 2020-2021 rounds are ineligible for funding in 2021-2022.
How do you apply for the Direct Aid Program?
Applicants will be required to submit an Expression of Interest (EOI) as the initial stage of application. The Australian High Commission will contact shortlisted applicants to submit a full proposal.
The EOI stage for the 2021-2022 round has now closed and we will not be accepting any further expressions of interest.
They are currently assessing EOIs.  Following their assessment, they will invite selected applicants to submit a full proposal.  Applicants will have two weeks to submit their proposals, which must include:
an accurate financial breakdown of costs involved (invoices must be attached to substantiate costings)
a Risk Management Strategy that (if relevant) includes assessment of risks to children time frame for implementing the project
Applications will only be accepted online through Smartygrants.  Applications in hard copy or email will not be processed.
Please note that:
Incomplete applications will not be considered.
only applications in the above focus areas will be considered
projects approved for funding must adhere to DAP policy guidelines set out by the Australian High Commission for financial management, fraud mitigation and branding (as set out in the grant agreement letter)
any unutilised funds must be returned to the Australian Government
A Note on the Shortlisting Process
The application process is highly competitive. They receive many quality applications each year and can only fund a small number.  While each application will be assessed, they will not be able to provide feedback to individual applicants.
For further information please email: directaidprogram.nairobi@dfat.gov.au