July 1, 2023
How to Pick a Student Loan for College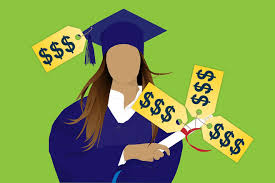 When picking a student loan, opt for federal options first before private loans.
Picking the right student loan can make a big difference when it comes time to repay your debt from college. If you're unsure what type of loan to choose, a good rule of thumb is to pick one that offers a low interest rate, multiple repayment options and borrower protections. A federal direct loan checks all of those boxes and is a good place to start.
Types of federal loans you can get
Federal loans have fixed interest rates that are often lower than private loans. They provide multiple repayment options, including income-driven repayment, and offer opportunities for loan forgiveness. There are three types of federal direct loans:
Direct Subsidized Loans. These loans are for students with demonstrated financial need. Interest isn't charged while you're in school or during deferment periods, and payments aren't required until six months after you leave school.
Direct Unsubsidized Loans. These loans aren't based on financial need. The amount you can borrow is based on attendance costs and financial aid. Interest is charged and added to the principal, or the disbursed amount of your loan, at all times — even during deferment periods. You can defer payments until six months after you leave school.
Direct PLUS Loans. These loans are credit-based, unsubsidized loans for graduate or professional students (called grad PLUS loans) and parents of dependent undergraduates (called parent PLUS loans). Interest rates are higher than for other federal student loans, and you can borrow up to the cost of attendance.
How to apply for a federal loan
Start by completing the Free Application for Federal Student Aid, or FAFSA, available online at studentaid.gov. You must complete it each year to be eligible for federal loans, grants and scholarships.
The federal government sends a copy of your FAFSA to the schools you apply to. Each school's financial aid office determines your aid package and will send you a financial aid award letter. The letter will outline gift aid like free grants and scholarships, work-study and any loans you're eligible for. Accept all free aid and work-study before taking federal loans.
How to accept a federal loan
You may be offered one or more federal loans, but don't take all of them if you don't need to. If you were offered federal loans and want to accept them, you'll sign a master promissory note detailing the loans' terms and complete a brief online loan counseling session.
The federal government then sends the money to your college, which, in turn, sends it along to you. However, if you have a credit from a loan on your school bill, meaning you accepted more loans than were needed for tuition, you can get a refund and use it for living expenses.
How to pick a private student loan
When federal aid and family contributions combined won't cover everything, you may need to take out private loans to fill the gap. Compare private loans from multiple lenders, including banks, credit unions and online platforms. Consider factors such as fees, interest rates and length of repayment, along with options to pause payments if you run into financial trouble.
Most private student loan borrowers will need to apply with a co-signer because they lack credit. A qualified co-signer may speed up the application process and give the borrower a better chance of approval and help lower the interest rate. However, your co-signer will be just as responsible for repaying your debt as you are. Look for a private lender that offers co-signer release, which will free your co-signer after a certain number of payments.
How much to borrow
To prevent taking on too much debt, borrow a total amount that would keep payments around 10% of your estimated monthly income after college. Use a student loan calculator to estimate different loan payments.