Changing Your Asset Allocation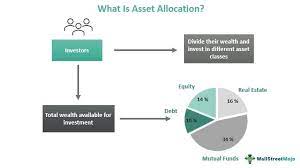 The most common reason for changing your asset allocation is a change in your time horizon. In other words, as you get closer to your investment goal, you'll likely need to change your asset allocation. For example, most people investing for retirement hold less stock and more bonds and cash equivalents as they get closer to retirement age. You may also need to change your asset allocation if there is a change in your risk tolerance, financial situation, or the financial goal itself.
But savvy investors typically do not change their asset allocation based on the relative performance of asset categories – for example, increasing the proportion of stocks in one's portfolio when the stock market is hot. Instead, that's when they "rebalance" their portfolios.
Rebalancing 101
Rebalancing is bringing your portfolio back to your original asset allocation mix. This is necessary because over time some of your investments may become out of alignment with your investment goals. You'll find that some of your investments will grow faster than others. By rebalancing, you'll ensure that your portfolio does not overemphasize one or more asset categories, and you'll return your portfolio to a comfortable level of risk.
For example, let's say you determined that stock investments should represent 60% of your portfolio. But after a recent stock market increase, stock investments represent 80% of your portfolio. You'll need to either sell some of your stock investments or purchase investments from an under-weighted asset category in order to reestablish your original asset allocation mix.
When you rebalance, you'll also need to review the investments within each asset allocation category. If any of these investments are out of alignment with your investment goals, you'll need to make changes to bring them back to their original allocation within the asset category.
There are basically three different ways you can rebalance your portfolio:
You can sell off investments from over-weighted asset categories and use the proceeds to purchase investments for under-weighted asset categories.
You can purchase new investments for under-weighted asset categories.
If you are making continuous contributions to the portfolio, you can alter your contributions so that more investments go to under-weighted asset categories until your portfolio is back into balance.
Before you rebalance your portfolio, you should consider whether the method of rebalancing you decide to use will trigger transaction fees or tax consequences. Your financial professional or tax adviser can help you identify ways that you can minimize these potential costs.
When to Consider Rebalancing
You can rebalance your portfolio based either on the calendar or on your investments. Many financial experts recommend that investors rebalance their portfolios on a regular time interval, such as every six or twelve months. The advantage of this method is that the calendar is a reminder of when you should consider rebalancing.
Others recommend rebalancing only when the relative weight of an asset class increases or decreases more than a certain percentage that you've identified in advance. The advantage of this method is that your investments tell you when to rebalance. In either case, rebalancing tends to work best when done on a relatively infrequent basis.